Focus Peru
Wake up to mountain views and a sweaty practice.
September 21st - 28th, 2019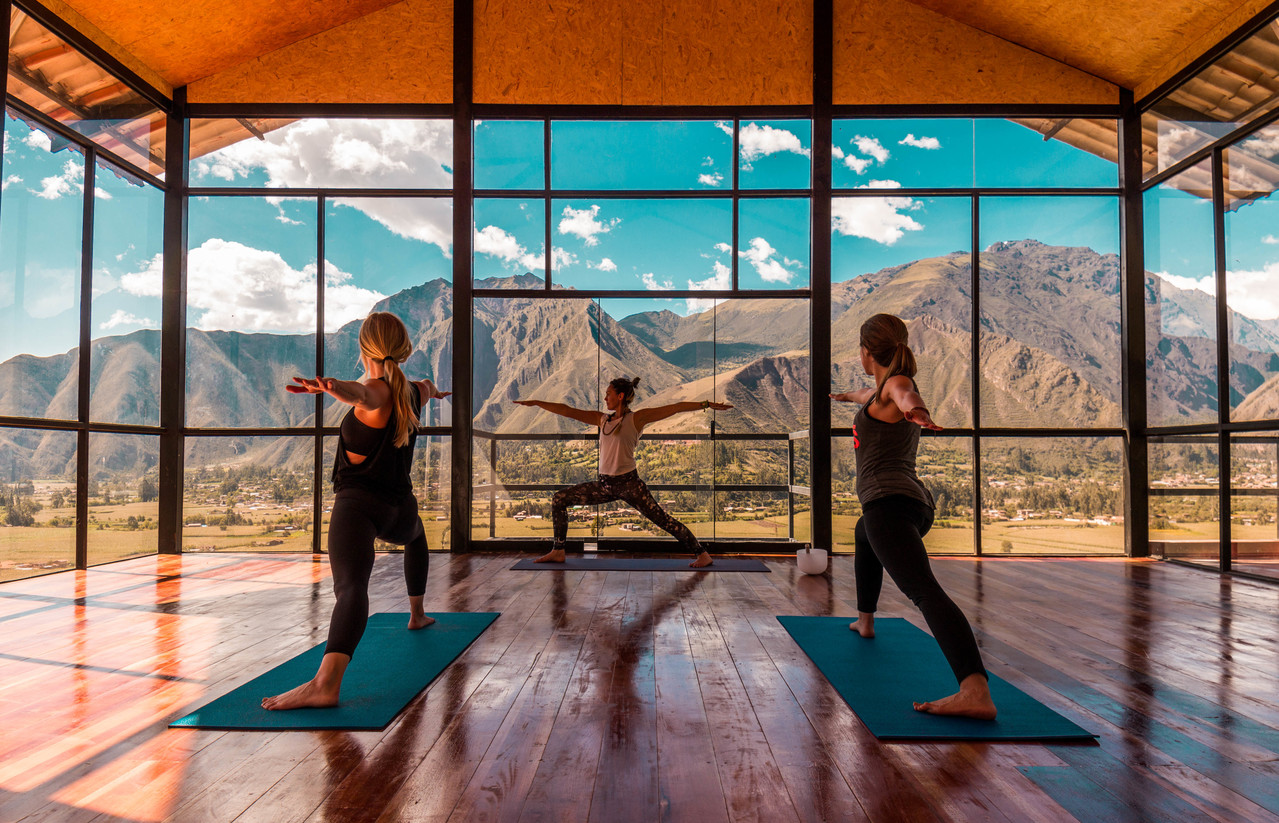 Mountains. Valleys. vegan meals. yoga classes.
Reconnect with nature and yourself as you spend the week in the Peruvian valleys surrounded by mountains. Start and end your day with a chakra-themed yoga practice that will energize and soothe your mind, body, and spirit. Spend your free time exploring the nearby villages, trekking along mountain paths, or relaxing at the retreat centre. The week will also include 3 different chakra-themed workshops, a luxurious crystal bowl sound healing ceremony, a day trip to the famous colourful Pisac Market, and a Peruvian cooking class!
Recharge and soak up the magic of the Sacred Valley of Peru
CHAKRA INSPIRED RETREAT
This seven night, eight day retreat will work to align your chakras while you enjoy the beautiful scenery of Sacred Valley, Peru. Each day will begin with a chakra balancing vinyasa yoga practice to energize you for the day. Practice will be tailored to the needs of those attending the retreat, with both advanced asana options and modifications for anyone looking to slow down. For the rest of the day you can choose whether you'd like to hike through the spacious grounds in the middle of the mountains, participate in a Peruvian cooking class or sound healing ceremony, or you could simply lounge around in one of the beautiful cabins. Every evening, a more grounding, deep flow practice will revisit the chakra of the day to help you fall asleep in a balanced state ready to work your way up the rainbow bridge the next day! Classes will focus on self reflection to determine where we are deficient or excessive in each of our chakras, so we can create more balance in each of our centres through breath work and moving meditation, nurturing the whole self. There will also be three specialized workshops on three afternoons where we will further explore the root, heart, and crown chakra in more detail using the practices of arm balances, backbends, and inversions.
Retreat Leader: Angela Morley
Ang discovered yoga in 2009 when she finally let her roommate drag her to her first class. She connected with the physical practice immediately and was overcome with acute nostalgia for her days as a gymnast. The movement came naturally; the connection of that movement with her breath and her mind was what really pulled her in. It became therapeutic; she felt lighter, more balanced, more connected. Since completing her teacher training Ang has dedicated her life to the learning and teaching of yoga. Always a student, Ang credits the depth of her practice and teaching to Grace Dubery, Audrey Gentile, Kate Gillespie, Sheldon Shannon, Amica Hilton and Juliana, and Jonny Belinko. Her good-humoured personality combined with her knowledge of human anatomy provides students with challenging classes focused on proper alignment where they can have a good time in the process. Her love of music always brings an eclectic playlist. Above all Ang hopes to bring you lightness, more balance, and connection.
THE CHAKRA INSPIRED SPACE
The retreat center is nestled in the Sacred Valley on a vast property with lots of room to explore and immerse yourself in the magic of the surrounding mountains. It's facilities are fully-equipped, and based on the theme of the 7 chakras. There are areas dedicated to meditation and art, a multifunction room, a yoga deck with a dazzling view of the sacred valley, and even an organic garden where you can learn about the different varieties of plants native to the area.
THE FOOD
Each day you can expect high quality, vegetarian and vegan dishes, paired with nutritional value for each chakra. Dishes often include produce grown in the centre's own garden and from the Sacred Valley. You'll enjoy local favourites like quinoa, kiwicha, maca, kaniua, and more. These dishes will reinforce the balance and harmony of each person. There will also be the opportunity to learn and share the cooking process with the chef.
$2250 CAD*
*Price is per person based on triple occupancy; space is limited, so reserve your spot ASAP. Double occupancy rates are also available upon request!
• 7 nights, 8 days accommodation
• 3 vegetarian/vegan meals a day
• Selection of teas, coffee, and snacks are available in the morning before yoga, as well as throughout the day
• Transfers to the retreat
• 1 Sound healing ceremony
• Twice daily yoga practices
• 3 chakra-related yoga workshops
• A trip to the colourful Pisac Market
• 1 Peruvian cooking class with the vegan chef on site
• Trekking on the vast retreat property
• Evening bonfires
WHAT'S NOT INCLUDED
• Airfare
• Travel Insurance (Medical + Trip Cancellation)
• Extra drinks/snacks/alcohol
• Extra excursions/Spa treatments
• Gratuities
For full booking terms and conditions please click here.
WHAT TO EXPECT
Here's what a typical day may look like:
7:30am: Coffee/tea and light snack will be available (and throughout the day)
8:00-9:30am: Morning yoga practice

9:30am: Breakfast

Free time (soak in the magic of the valley, etc.)

2:00pm: Lunch

Free time/Yoga workshop

6:00-7:00pm: Evening yoga practice

7:30pm: Dinner

Relax/reflect
WANT TO COME WITH US? LET US KNOW!
SPACE IS LIMITED, RESERVE ASAP.